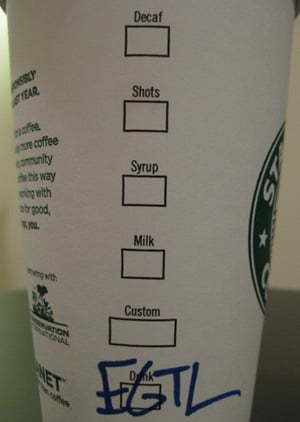 Decaf Box
Code
Meaning
X
Decaf
1/2
Half Decaf
If it's empty, then your drink is probably caffeinated (unless it's naturally decaffeinated like some of the Tea options).
Shots Box
Code
Meaning
1
1 Shot
2
2 Shots
etc…
etc…
A Starbucks grande coffee has 330mg of caffeine. If you want to spike it, each additional shot of espresso adds 75mg of caffeine. Yes, espresso has less caffeine than coffee beans.
Syrup Box
Code
Meaning
A
Almond
C
Caramel Syrup
CH
Chai
CL
Classic Syrup
CN
Cinnamon
H
Hazelnut
I
Irish Cream
MO
Mocha Syrup
P
Peppermint
R
Raspberry
SFH
Sugar Free Hazelnut
SFV
Sugar Free Vanilla
V
Vanilla
VA
Valencia
WM
White Chocolate Mocha Syrup
If it's empty then you don't get any shots (or you get the default shot for you drink).
Milk Box
Code
Meaning
B
Breve (half-and-half)
E
Eggnog (seasonal)
%
50% whole, 50% non-fat
N
Nonfat
S
Soy
O
Organic Milk
If it's empty, you get 2% milk. The only exception is a Frappucino, in which case you get whole milk by default.
Custom Box
Code
Meaning
CHIP
Add chips
CR
Caramel Sauce
D
Dry
DB|2xB
Double Blended
F
Foamy
H
Hot
HANDOFF
Deliver to customer's table
K
Kid's Beverage (tiny size, cooler temperature)
LT
Light (used before another code)
NW
No Water
SL
Sweet'n Low
SP
Splenda
STRAB
Strawberry Fruit Sauce
SR
Sugar in the raw
VBEAN
Vanilla Bean Powder
W
Wet
WC
Whipped Cream
X
Extra
=
Equal
/
Placed over a code to indicate deletion
Empty box means no custom selection.
Drink Box – Hot and Cold Beverages
Code
Meaning
A
Caffe Americano
AL
Cafe au Lait
BC
Brewed Coffee
C
Cappuccino
CAC
Caramel Apple Cider
CB
Caramel Brule Latte
CH
Tazo Chai Tea Latte
CHEG
Tazo Chai Eggnog Tea Latte
CM
Caramel Macchiato
E
Espresso
ECP
Espresso Con Panna
EGTL
Earl Grey Tea Latte (aka "London Fog")
EM
Espresso Macchiato
EL
Eggnog Latte
GL
Gingerbread Latte
HC
Hot Chocolate
L
Caffe Latte
LM
Latte Macchiato
M
Caffe Mocha
MIS
Caffe Misto
MV
Mocha Valencia
PM
Peppermint Mocha
PSL
Pumpkin Spice Latte
PWM
Peppermint White Chocolate Mocha
SCID
Steamed Cider
SCR
Syrup Creme
SKM
Skinny Mocha
SM
Steamed Milk
T
Tazo Tea
VCR
Vanilla Cream
WHC
White Hot Chocolate
WM
White Chocolate Mocha
CHA
Chantico
If this is empty then they probably didn't bother filling out any of the boxes.
Drink Box – Blended Beverages
Code
Meaning
CBF
Caramel Brule Frappuccino
CF
Coffee
CVF
Caffe Vanilla
CRF
Caramel
E
Espresso
EF
Eggnog Frappuccino
GF
Gingerbread Frappuccino
JCF
Java Chip
MF
Mocha
PMF
Peppermint Mocha Frappuccino
PSF
Pumpkin Spice Frappuccino
PWMF
Peppermint White Chocolate Mocha Frappuccino
WMF
White Chocolate Mocha Frappuccino
CHCF
Tazo Chai Creme
DCCF
Double Chocolate Chip
STCF
Strawberries & Creme
SF
Syrup Creme
VBF
Vanilla Bean
If this is empty then they probably didn't bother filling out any of the boxes.
Drink Box – Iced Shaken Beverages
Code
Meaning
IC
Iced Coffee
BT/PT
Iced Black Tea / Iced Passion Tea
BTL
Iced Black Tea Lemonade
PTL
Iced Passion Tea Lemonade
If this is empty then they probably didn't bother filling out any of the boxes.

-- EOF --
除非注明(如"转载"、"[zz]"等),本博文章皆为原创内容,转载时请注明: 「转载自程序员的信仰©」
本文链接地址:星巴克饮品缩写大全(Starbucks Drink ID Codes)[zz]
Today on history:
【2008】printf("no title");